---
Steel Toe Safety Boots

Written By: Chloe Wilson - BSc(Hons) Physiotherapy
Reviewed By: FPE Medical Review Board

Steel toe safety boots are durable shoes or boots designed to protect the feet.  They usually have a reinforced toe box to prevent compression from falling objects and a specially designed sole to protect against punctures.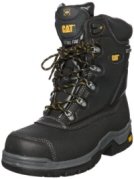 They are popular both as work shoes for e.g. construction workers and fire fighters as well as for sports and recreational use. They come in boot, shoes, sneaker and clog varieties by a number of designers including Doc Martins and Caterpillar. 

There are strict safety criteria for steel toe shoes and boots which show the protection level each shoe provides.  Not only can steel toe safety boots protect you from injury, they can save your life.

Here we will look why you should wear steel toe work shoes or boots and at the different classifications of safety footwear for America, Canada and Europe and look at how to choose the right ones for you. 
We will then look at the different types available depending on what you are wanting them for, including shoes, boots, sneakers and rain boots. You will find a whole range of styles and reviews for each. 

Why Wear Them?

Steel toe safety boots are vital for anyone working in an industrial environment.  They provide protection from falling objects which could crush your toes, and prevent injury if you accidentally step on something sharp.  Many industries insist on the use of certified steel toe safety shoes and appropriate footwear should be chosen dependent the hazards of the particular environment.
Traditionally, steel toe safety boots use steel for reinforcement.  However sometimes composite material such as Thermoplastic Polyurethane (TPU) or aluminium is used for the reinforcement. 
Choosing The Right Steel Toe
Safety Boot For You

It all depends what you are looking for from your steel toe safety boot.  If you are working in industry, always discuss what aspects of safety are necessary in your work place and choose a shoe or boot that fits into that category.  If u are wanting some protection but fashion is your main priority, there are plenty of great options out there too, with major designers like Doc Martin, Caterpillar and Timberland as some of the firm favourites.

You can find out more about some of the most popular safety boots and shoes on the market and read reviews in the Steel Toe Work Shoe/Boots and Safety Sneakers/Trainers section.  You can find everything from safety shoes to ankle boots to rubber boots/wellies, compare prices and read user reviews.  Whatever you are looking for, you will find something for you.
When choosing steel toe safety boots, it is important to get shoes or boots that provide the right level of protection and that are comfortable.   Safety boots and shoes usually have symbols on them which indicates the protection level they offer. 
US & Canadian Standards

The US and Canadian classifications are virtually identical for steel toe work shoes.  They use the same images but Canadian products will also have the CSA logo – Canadian Standards Association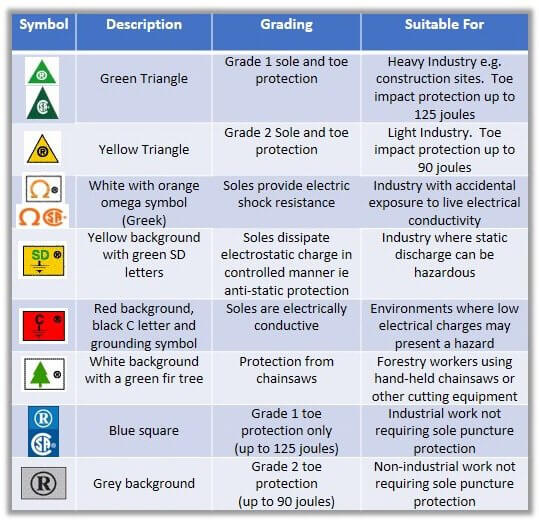 American Classification

Since 2005, protective steel toe safety footwear must comply with the relevant American Society for Testing and Materials (ASTM) standard which is ASTM F2413.  This supersedes the previous classification by the American National Standards Institute (ANSI) which was AMSI Z41.  The protocol for each is identical.
American manufactured steel toe safety boots and shoes will show the appropriate symbols as listed above and will also have an additional coding system on at least one shoe of each pair. 

Line 1: identifies the ANSI or ASTM standard.  It is followed by the toe protection (PT) standard for the year it was made

Line 2: Gender "M" = male, "F"= female
         : Impact resistance "I" = 75, 50 or 30 foot-pounds
         : Compression Resistance "C" = 75,50 or 30 which correlates 
          to 2500lbs, 1750lbs and 1000lbs respectively – the amount of
          force it can withstand before it crumples
Lines 3+: covers any additional standards that are met
    "MT" = metatarsal resistance ratings of 75, 50 or 30 foot-pounds
     "CD" = conductive properties. Range of electrical resistance must be between 0 – 500,000 ohms and refers to the shoes ability to drive static electricity away from the body to the ground
    "EH" = electrical hazard protection.  Has soles and heels which are non-conductive electrical shock resistance
    "SD" = static dissipative footwear
    "PR" = puncture resistant plate between the inner and outer sole.  Minimum puncture resistance of 270lbs
    "CS" = chainsaw resistant footwear
    "DI" = Dielectric Insulation.  Extra insulation for accidental contact with energized electrical conductors, circuits and devices.

Any absence of these means the standard is not met.  Up to three standards can be recorded on one line, any further standards met continue on the following line.
Canadian Classification

In Canadian steel toe safety boots you will also find markings on the inside of the shoe showing the internal protection code.
It is made up of five "positions" each relating to a different safety item which has its own classification.

Position 1: Toe Level Protection: "1"= grade 1 (up to 125 joules,) "2"= grade 2 (up to 90 joules)

Position 2: Puncture Resistant Sole: "P" = present, "0" = no protection

Position 3: Metatarsal Protection: "M" = present, "0" = no protection

Position 4: Electrical Protection: "E" = shock resistant, "S" = static dissipative, "C" = conductive, "0" = no protection

Position 5: Chainsaw Protection: "X" = present, "0" = no protection
European Classification

The European Standard for steel toe safety boots is provided by the International Organization for Standardization.  The current code is ISO 20345-2004 which superseded the BS EN 345-1:1993 code.  The categorization codes used are as follows: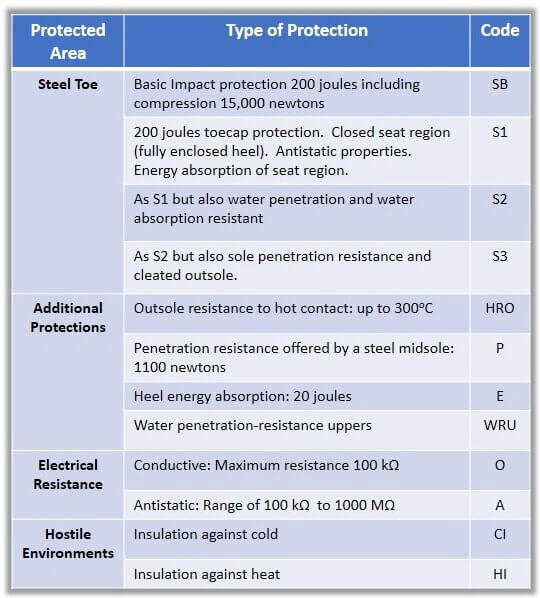 What Next?

You can find out more about specific types of steel toe safety boot and shoes in the following sections:
Best Safety Shoes/Boots or Safety Sneakers/Trainers
If you are suffering from foot pain and want help working out what is wrong, visit the foot pain diagnosis section.

Page Last Updated: 2019-06-25
Next Review Due: 2021-06-25