---
Steel Toe Tennis Shoes
Written By: Chloe Wilson - BSc(Hons) Physiotherapy
Reviewed By: FPE Medical Review Board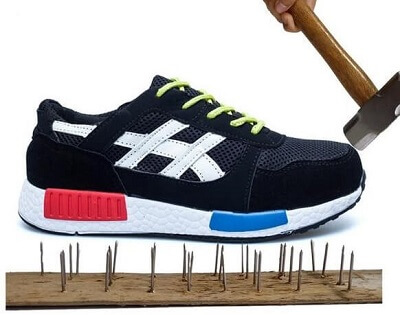 Steel toe tennis shoes, trainers or sneakers are popular in a whole range of situations. 
Whether for sports, recreation, hiking, work or comfort, they look great, feel great and provide great protection. 
You can get waterproof ones, slip resistant soles, removable insoles and more. Steel toe sneakers are great day to day shoes if you are looking for comfort and style but also need the added safety features for example if you are visiting inspection sites – no need to change into heavy work boots.  Blue collar footwear meets skate shoes.
Steel toe sneakers are popular for outdoor activities such as hiking, trail running and backpacking, sports such as tennis and sailing, working on construction sites, farms and manufacturing plants or for tradesmen such as electricians, carpenters or mechanics. Steel toe tennis shoes are a great way to combine safety and protection with comfort and style. 

Steel toe sneakers have a specially constructed toe box at the front of the shoe which protects the toes from being injured by falling objects.  They also have strong, slip-resistant soles and other additional safety features, depending on the shoe. 
Here we will look at some of the best steel toe tennis shoes and sneakers on the market.  If you are looking for smarter work shoes or higher protection safety boots, visit the Steel Toe Work Shoes  section. We will start with US steel toe tennis shoes or you can jump straight to the best UK versions.
Best US Steel Toe Sneakers

Here is a selection of our favourite steel toe tennis shoes available in the US including brands such as Sketchers, Timerbland and Reebok. Each of the steel toe sneakers  receive an average user rating of at least 4.2/5.

Timberland PRO Gorge ST


ESD footwear for static dissipation, oil and slip resistant sole, made of premium durable, abrasion resistant leather.  Breathable fabric. Lightweight yet rugged sole. Average rating 4.2/5

Harley-Davidson MC Shoe


Rubber sole, steel toe, suede fabric & full length cushion lining. Black and white laces. Comfortable & long wearing.

Average rating 4.5/5 
---
Sketchers Work Dexter ST


Rubber, slip resistant sole.  Steel toe for protection. Lace-up front. Great work safety sneaker.  Available in brown, charcoal or black colours.  Durable & long wearing. Average rating 4.2/5 

---
Sketchers Soft Stride

Lightweight composite toe, padded collar & tongue. Nitrile rubber slip & oil resistant sole.  Electrical hazard protection.   Removable cushioned insole & shock absorbing midsole. Average rating 4.2/5

Best UK Steel Toe Tennis Shoes

Here is a selection of our favourite steel toe trainers available in the UK including brands such as Caterpillar and Converse.  They all have a user rating of at least 4.1/5

Dickies Safety Trainers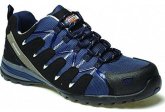 Non-metallic, slip-resistant, anti-penetration sole.  Padded collar and tongue. Water resistant.  Steel toe for impact protection.  Lightweight and comfortable.  Average rating 4.3/5


Lee Cooper Converse ST

Baseball style safety shoe with steel toe cap.  Antibacterial and anatomically molded foot bed.  Anti-static, non-slip oil and heat resistant sole. Average rating 4.1/5


---
Groundwork Safety Trainers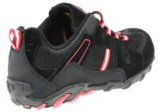 Oil and slip resistant sole, steel toe protection.  Lightweight, hard wearing and comfortable. Available in black/red or yellow/navy options.  Average rating 4.5/5


---
New Men's Safety Trainers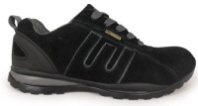 Made from quality suede and leather.  Oil resistant, anti-slip sole.  Steel toe cap.  Provide good shock absorption.  Available in navy or black with black or yellow laces.  Average rating 4.4/5


What Else Can Help?

If you don't think steel toe sneakers are going to provide you with enough protection, are looking for boots or you are wanting a smarter pair of safety shoes, visit the Steel Toe Work Shoes section for a great range.  You can search by type of shoe/boot and read user reviews.
Remember, if you are buying steel toe tennis shoes for work, make sure they meet the regulation standards set by your employer.  You can find out more about the different categories of safety shoe and how they are categorized in the Safety Shoe/Boot Overview section. 

Page Last Updated: 2019-06-30
Next Review Due: 2021-06-30


*Prices correct as of May 2019.  All prices are subject to change.  Please note we do not stock products directly and therefore have no control over price changes. See Advertising Policy for more information